About Us
BurtoNZ Bakery was founded by husband and wife team of Warren and Bobbi Burton. While Warren had been working as a Viticulturist in the wine industry for the past twenty plus years, it has always been his dream to return to his roots. Warren wanted to share the delicious baked goods he grew up loving, with his family, friends and community by opening a New Zealand style bakery in the heart of Sonoma County.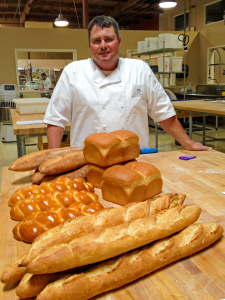 For as long as he can remember, Warren dreamed of one day living in America. Even as a small child, he repeatedly entered coloring contests through magazines and newspapers, trying to win a trip to Disneyland. As a young adult he finally found himself on US soil for a short time during a trip around the world. He had made it to Los Angeles, traveled up to the San Francisco Bay Area, and on to the beautiful wine country regions of Napa and Sonoma, where he secretly thought to himself "I'm going to live here one day."
A few years later, Warren had an opportunity to return to the US via an Agriculture Exchange Program, where he traveled to various wine regions working the "harvest" demonstrating/operating harvesting equipment. He did this repeatedly for a few summers visiting many of California's wine regions, and eventually falling in love with Sonoma County. With its rolling hills and vibrant agriculture community, it reminded him of his home in New Zealand, but one thing was missing; a good ol' kiwi Steak and Cheese Pie.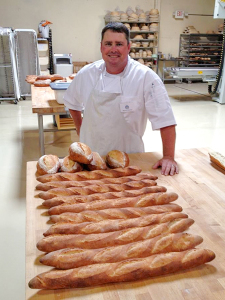 It was during what was to be Warren's last harvest season in California that he met his wife Bobbi. Neither was looking for a relationship, he knew he was leaving after summer and she simply wasn't looking… funny how the universe works sometimes. Warren's visa status meant that just seven months after they began dating, he would be returning to New Zealand. Although her family thought she had lost her mind, leaving everything and moving half-way around the world, Bobbi left her career in healthcare and joined Warren in New Zealand. They were married the following spring (autumn in New Zealand) and have celebrated over 15 years together.
While in NZ, much to Warren's delight, Bobbi fell in love with many of the traditional New Zealand pastries and baked goods. Together they decided to learn as much as they could, so that one day, they might be able to bring Pies and Sausage rolls home to the US. For 3 years, they ran the local bakery where they lived, with Warren baking all of the product, and Bobbi in charge of presentation and sales. Next to parenting and family life, they still say it's the best fun they've ever had!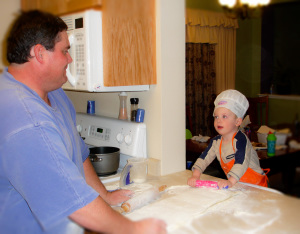 In the spring of 2001, they returned to California, and have since called Sonoma County home. In the summer of 2013, Warren left the wine industry to attend the prestigious San Francisco Baking Institute, receiving a diploma as an Artisan Bread and Viennoiserie Professional. Warren and Bobbi currently live in Healdsburg, CA with their 9 1/2 year old son Marcus and his four legged sister Brenna.
The idea and vision of BurtoNZ Bakery has been over 16 years in the making, and having BurtoNZ Bakery become a reality, is happening right now! Since having become an LLC and setting up the business infrastructure in 2013,  the last year has been spent securing the perfect location, and acquiring the necessary equipment. Warren and Bobbi are hugely excited to be so close to being able to share what they love with their community, and with a clear set plan to bring this to fruition. All the ducks are in a row and waiting, now to fire up the oven and open the doors.
Warren & Bobbi believe that sometimes when you have a dream, and life happens to take you in other directions for a while, the dream never really leaves your heart; it's just waiting for you to come back and bring it to life.